Project leader Dr Ivana Vinković Vrček and PhD student Barbara Pem participated in the spring school and conference "2nd Conference and Spring School on Properties, Design and Applications of Upconversion Nanomaterials", held in Valencia, Spain from 2. to 6. 4. 2018.  Dr. Vinković Vrček held a lecture titled " Challenges in safety evaluation of upconverting nanoparticles: facing with interferences". A scientific poster under the title "Assessing interferences of upconverting nanoparticles with in vitro toxicity assays" was presented at the conference.
For more information follow this link.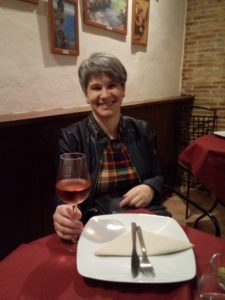 Dr Vinković Vrček and Barbara Pem at dinner after the conference.